Sunday Service: Westminster Presbyterian Church
Last week I received an email from Matt Marco, Assistant to the Pastor and to the Music Director at Westminster, asking if I'd be willing to write a Sunday Service blog post and tour their Church. I quickly accepted, as I love exploring and learning about Churches I haven't been able to visit yet. I met with Matt and Pastor Tom, who were very generous with their time in reviewing Church life and the various programs happening at Westminster. I was impressed to learn just how much was going on them, especially with the Westminster Economic Development Initiative. WEDI is non-profit organization that focuses on improving the lives of residents on the West Side by supporting entrepreneurs and small business development, training and education. Dozens of successful small businesses have gained footing and maintained success over the recent years thanks to this wonderful program. Westminster has a significant track record of supporting the people of Buffalo. 
Since the inception of the refugee resettlement facility Westminster House in 1894, church members have given of their time and talents to serve those in need. Their ENERGY After School Program provides one-on-one tutoring and a nutritious snack twice per week for West Side children (many of whom are from Puerto Rico, Somalia, Iraq, and other regions). Their initiative with the West Side Bazaar offers an international small business incubator, supporting entrepreneurs on their path to becoming successful business owners on the West Side and beyond. They also offer business planning resources and micro loan opportunities through WEDI. In addition to their own programs, Westminster works and supports a variety of other organizations, including Concerned Ecumenical Ministries, AIDS Family Services, VIVE and more. Check out more on how Westminster is positively impacting their community through their
website.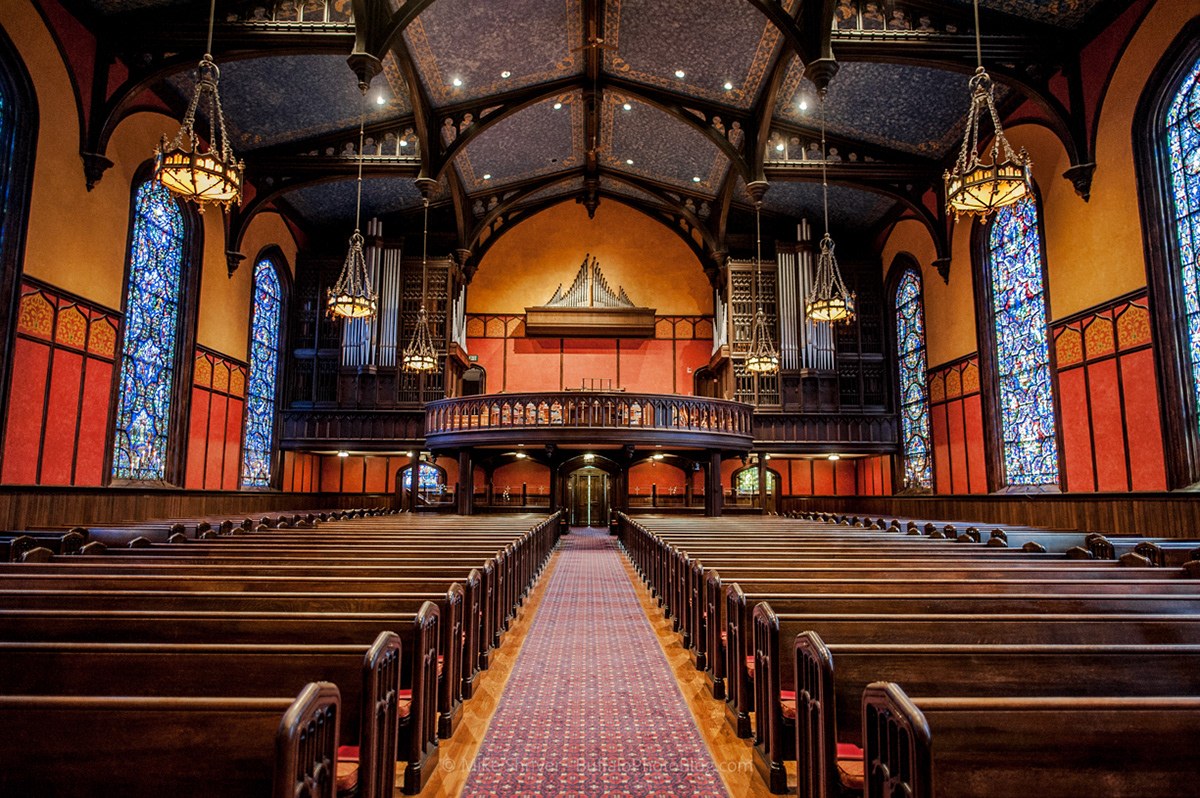 The Early Years: Forty North Street area residents founded Westminster Church on September 3, 1854. With ten members of First Presbyterian Church, this group, led by Jesse Ketchum, established a new Presbyterian congregation just beyond the northern boundary of Buffalo, then a city of 42,000 people. Jesse Ketchum, a Christian businessman and civic leader, provided the land on which a new chapel was constructed in 1847. Today, the spot is occupied by the present church. On August 26, 1858, this small band of Christians laid the cornerstone for what is essentially the same sanctuary now used for the worship of the congregation. The Church boasts a strong Romanesque Revival style, which was designed by the architect, H.M. Wilcox. Light "yellow" brick, likely to have come from Jesse Ketchum's native Canada, was used. Windows on the Delaware, north and south walls have round arches. Pointed Gothic arches were installed on the interior when new windows were installed, 1931-1952. Small brick arches in the cornice are reminiscent of Lombardy architecture of northern Italy. The Parish House, built in 1918, housing the Parish Hall and Case library, resembles a Norman keep. Behind Westminster is the restored Victorian stable for the Rumsey residence, now used by Early Childhood Programs. 
My favorite part of the actual Church has to be the stained glass windows, they are stunning! When the Sanctuary was renovated in 1903, Tiffany Studios stenciled Christian symbols in gold throughout: thirteen around the chancel arch, eleven in the chancel and sixty-six on wall panels; all being complemented by the rich colors of their windows. In 1931,Westminster started replacing the windows; the last of which can be found in the south anteroom by the Delaware Avenue entrance. Altogether there are thirty-one masterpieces by four of the leading artists associated with the Gothic revival in America: Henry Willet of Philadelphia and Wilbur Burnham, Charles Connick, and Joseph Reynolds of Boston. The biblical and symbolic substance depicted in this art is very comprehensive. There are 218 unique items of interest throughout the Sanctuary, Delaware entrance and Holmes Chapel: 127 bible stories in the windows, 56 Judeo-Christian symbols on walls and in the windows , and 33 significant events associated with Work of the Church portrayed in the windows. To appreciate this scope, begin in the Sanctuary at the Delaware end with the ten windows which cover the complete story of the Bible: Old Testament on the North, and New Testament on the South.
Their Sanctuary organ and music program is equally impressive! Westminster is dedicated and committed to the worship of God through a wide variety of musical / artistic styles, periods and mediums - both vocal and instrumental. The Adult Choir enhances and deepens the weekly worship experience through choral offerings from traditional and contemporary sacred music. They are known as one of Western New York's premiere choral groups. 
After my meeting with Pastor Tom and Matt, I walked around the inside of the Church a bit more, as well as the grounds outside to take additional pictures. I thought in detail about everything we discussed, specifically about the significant impact this Church had on the community it resides in. To me, prior to my visit it was just another beautiful Church in the city of Buffalo I wanted to explore. Little did I know everything they did for the people of Buffalo. I am truly impressed with the programs they run, support and participate in and how many people in our own community benefit from them. I'm also impressed with how progressive and open the Church is; their views truly align with how our community is actually made up and they support the LGBTQ community. I recommend you to check out their
website
, or better yet attend any of their open congregations!
Fall Worship Hours: 8:15am in the Holmes Chapel and 10:30am in the Sanctuary
Westminster Presbyterian Church | 724 Delaware Avenue | Buffalo, NY 14209 | 716.884.9437