Frank Lloyd Wright in Buffalo
Western
New York is home to one of the world's largest collections of work from the famous architect Frank Lloyd Wright. Having built structures in 40 of the 50 states as well as Japan and Canada, we should consider ourselves lucky to be able to enjoy his work in person today. Below I have series of photographs highlighting the 10 structures that remain in Buffalo today (although one is simply a memorial, sadly), including three structures that were re-created from original Wright drawings or blueprints. 
A couple items to note: If you're interested in nerding out to my level and want to find out more about of each of these structures, or get to know the clients and their stories, or simply know more about Frank Lloyd Wright in general as it relates to his Buffalo work, I recommend reading one of the following two books: "Frank Lloyd Wright in Buffalo and Western New York" by Jan Booth Sheridan (this is the quick and easy read, not overly detailed but will give you the essentials) or "Frank Lloyd Wright's Buffalo Venture" by Jack Quinan (this covers everything, and I mean EVERYTHING!). My second item: I give you the bare essentials regarding facts and research. I am a photographer and my focus is just that. I've learned quite a bit doing this post and I'm quickly paraphrasing what I've learned from the books, guided tours, and research sources online. I'm a passionate fan of architecture, especially Frank Lloyd Wright, and I've thought about doing a photo collection of his work for a long time (probably since I started this blog). This was such a fun piece for me to create, and I only hope you enjoy it as much as I've enjoyed putting it together!
The Darwin D. Martin House
Kicking off the series is arguably Frank Lloyd Wright's most significant work in the Buffalo area, and one of his most significant ever, the Darwin D. Martin House. Darwin Martin began working for the Larkin Company at age 14, eventually working his way up to second in command and a seat on the board. By 1907, Martin made his first million, revolutionizing numerous accounting procedures for the company in it's heyday. Shortly after, John Larkin started thinking about expanding his Buffalo operations with a new commercial building in present day Larkinville District. Darwin Martin was persistent in having Larkin hire Frank Lloyd Wright, an up and coming architect out of Chicago. Larkin agreed, and the infamous Wright/Martin friendship began. Prior to his own home, Wright built the Barton House (which is situated on the 1.5 acre lot next to the Martin House, making it officially the first Wright structure in Buffalo) and the Larkin Building. Shortly after, work on the Martin Complex began. 
Six structures in total, the Martin Complex consists of their Main House, the Pergola, the Conservatory, the Carriage House, the Barton House (separate feature below) and the Gardener's Cottage (separate feature below). Costing over $175K to build over three years, the Martins spent nearly forty times the amount on their home compared to what the average American house cost. When historians discuss Wright's Prairie House style, they often refer to the Martin House as his best example demonstrating strong horizontal lines, long overhanging eaves, cantilevered roof and prominent foundational features. The Complex was listed as a National Historic Landmark in 1986, saving it from further destruction and vandalism after years of abandonment. Just recently in 2019, the Martin House Restoration Corporation restored the historic landscape designed for the complex.
The George F. Barton House
Part of the Martin Complex, the Barton House is Wright's first official structure completed in Buffalo. Built for Martin's sister Delta, who was married to George Barton. Martin was very close to his sister Delta, who practically raise him from an early age. The Barton House has many features from Wright's Prairie Style, including overhanging eaves, decorative stained glass, terra cotta tiles and veranda.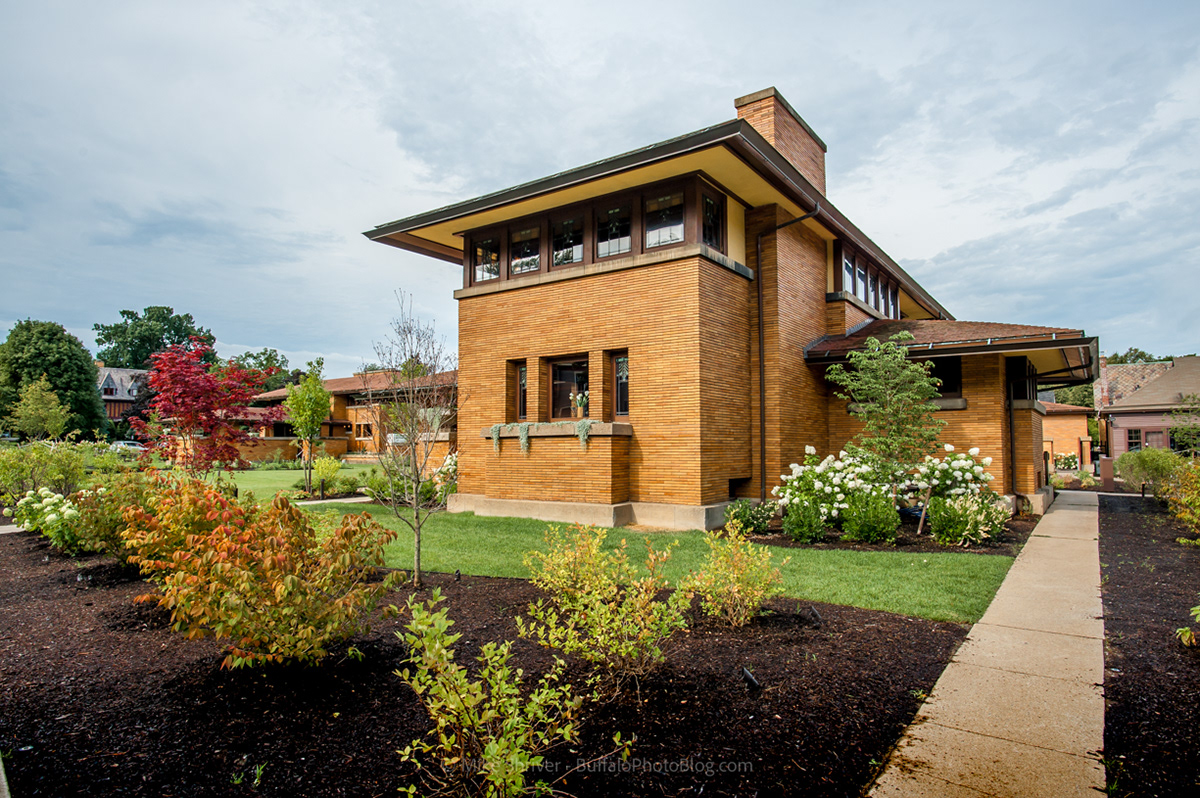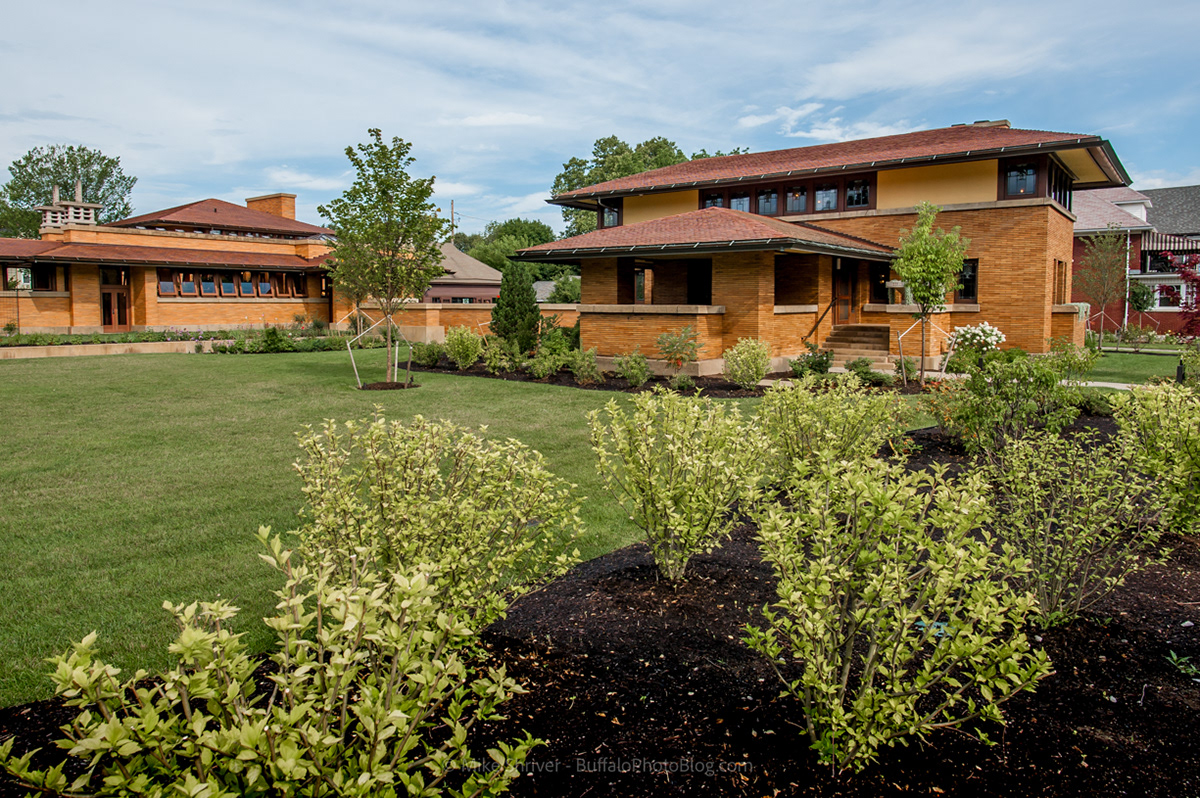 Part of the Martin Complex, the stucco Gardener's Cottage was the last structure to be completed in 1909. The cottage had a very small budget and limited lot size, so Wright wasn't able to include all of his traditional Prairie features seen in the Martin and Barton Houses. Although the Cottage lacked some of the luxury features the other complex buildings had, Wright included 32 gold and amber stained glass windows, which are original today. One of Reuben Polder's (the complex's official gardener) first responsibilities each day was to put fresh flowers in each room of the Martin House, which he did up until the day Darwin Martin passed in 1935.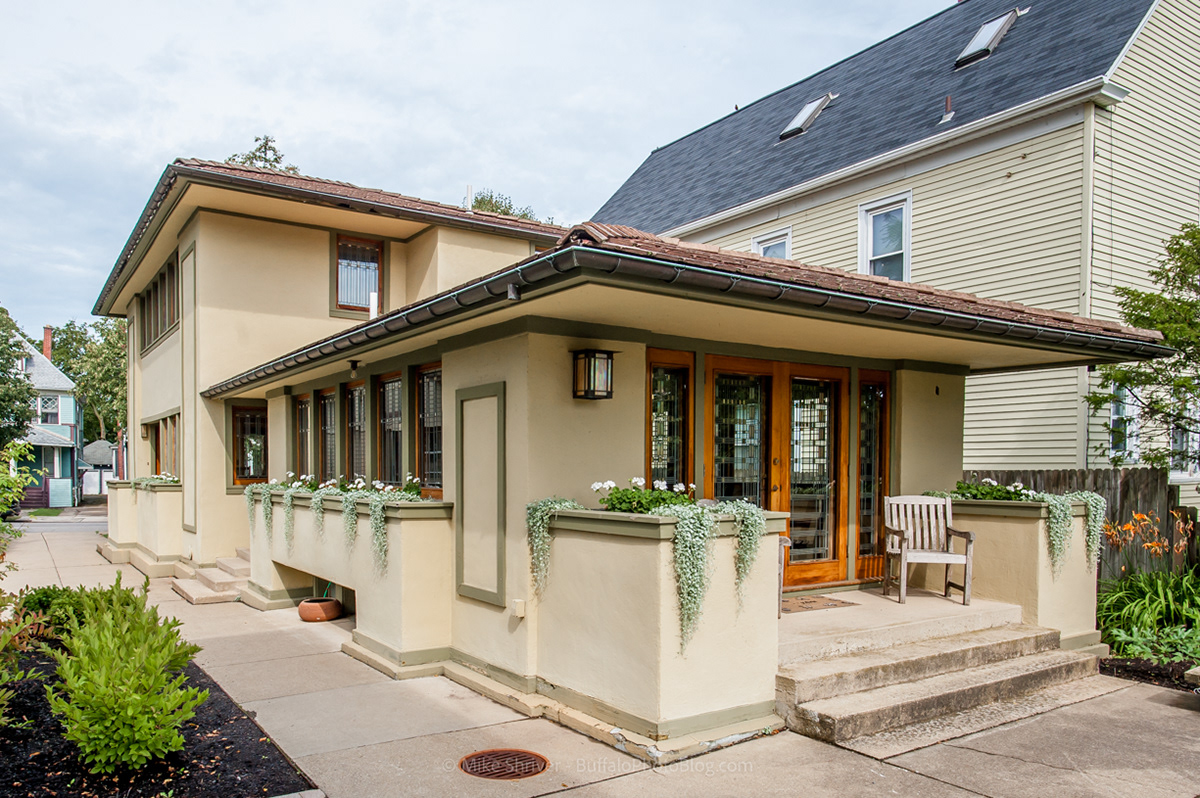 Fellow Larkin executive William Heath commissioned Wright to a challenging build at 76 Soldiers Place in 1903. The unique lot posed a new challenge for Wright as it was long and narrow alongside Bird Avenue, creating little room for a backyard and forcing the house to be close to the lot borders. Although the house is tucked closely to Bird Avenue, Wright designed the Heath House with privacy in mind by elevating the foundation, put the first floor windows high, and built the high walled veranda facing Soldiers Circle so there was still separation from pedestrians walking by. Today the residence is privately owned.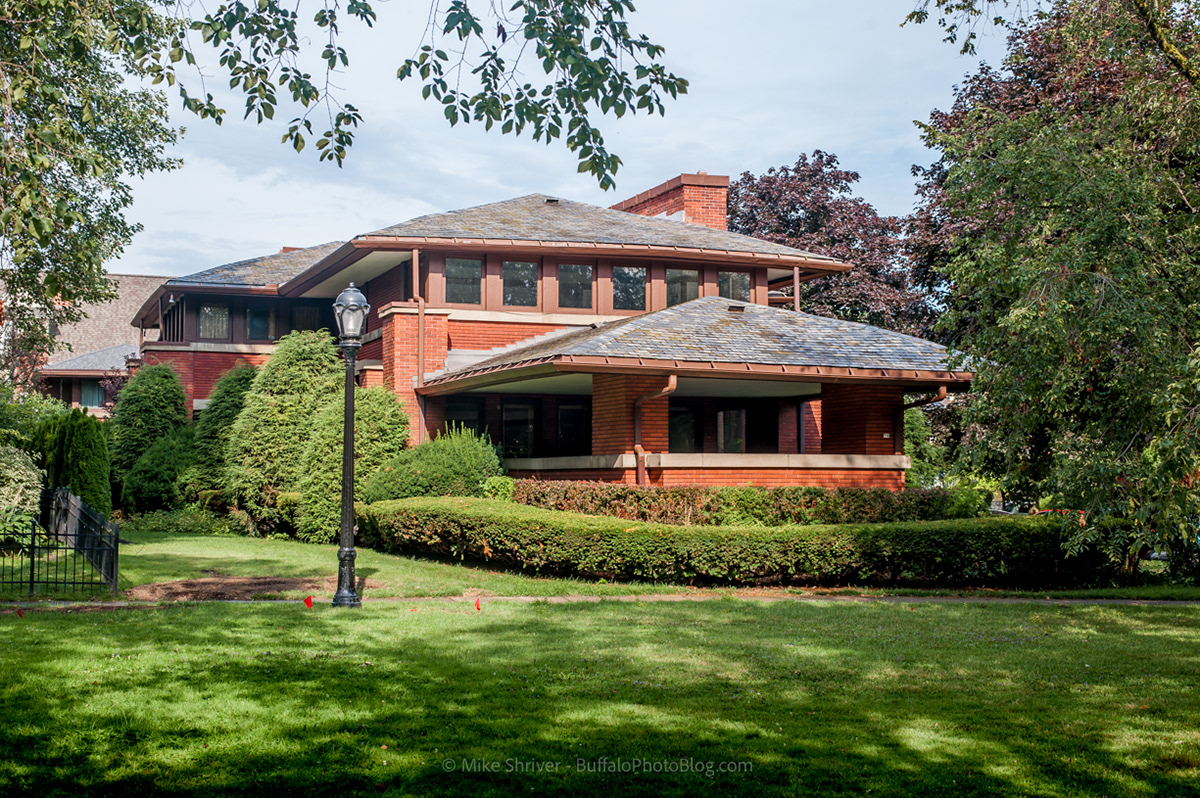 In 1906, Walter Davidson joined the Larkin Company in Buffalo as the Advertising Manager and quickly became friends with Darwin Martin and William Heath, two of his managing associates. Darwin and William already had their homes completed at this time, and within a few months of joining Larkin Company, Martin introduced Davidson to Wright at a social gathering. The house had a smaller budget compared to the Martin and Heath Houses. however Wright truly displayed his strengths of creating endless space with the Davidson House design. The living room is two stories tall, featuring a 15 foot bay window filled with diamond-shaped leaded glass. There are four bedrooms upstairs and a former maids quarters in the basement. Today it is privately owned.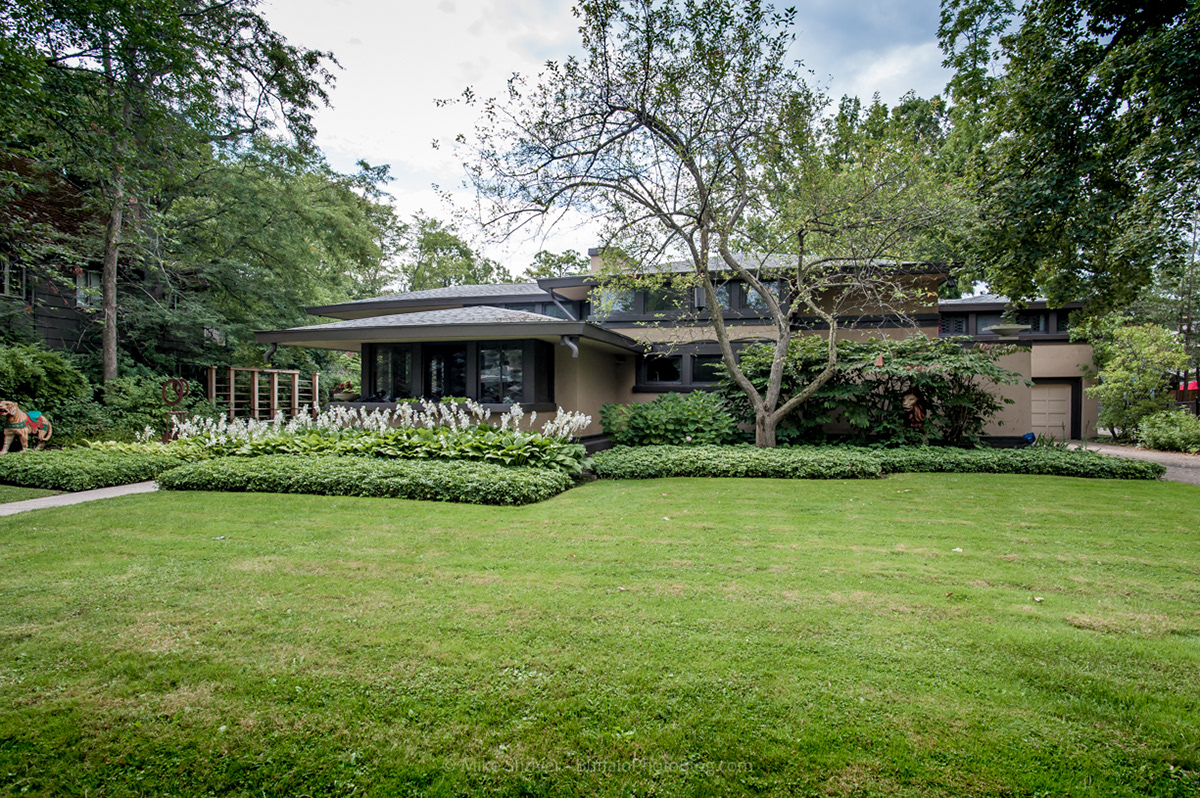 Darwin Martin was so happy with house on Jewett Parkway that he and his wife Isabelle commissioned Wright to build their summer home on Lake Erie. Isabelle was the client of record, so Wright primarily worked with her on the design and details of the home. She had deteriorating eyesight and the Jewett house was naturally dark by design, so she focused on light and open concepts with Graycliff. The name of the estate came from the natural gray color of the sixty foot cliff the complex sat atop. The three building complex includes the Isabelle R. Martin House, the Foster House (originally designed as a garage with chauffeur's quarters above), and the Heat Hut (boiler room to heat the other two houses). Isabelle wanted the main house to feel as though it truly belonged in it's environment, so Wright pivoted to an Organic architecture style by using 90% indigenous materials, such as the Cypress wood floors, gray shale stone from the cliff, and stucco that was shaded by the sand below. Wright also created a specific landscape plan dedicated to the complex, one of the very few he ever completed.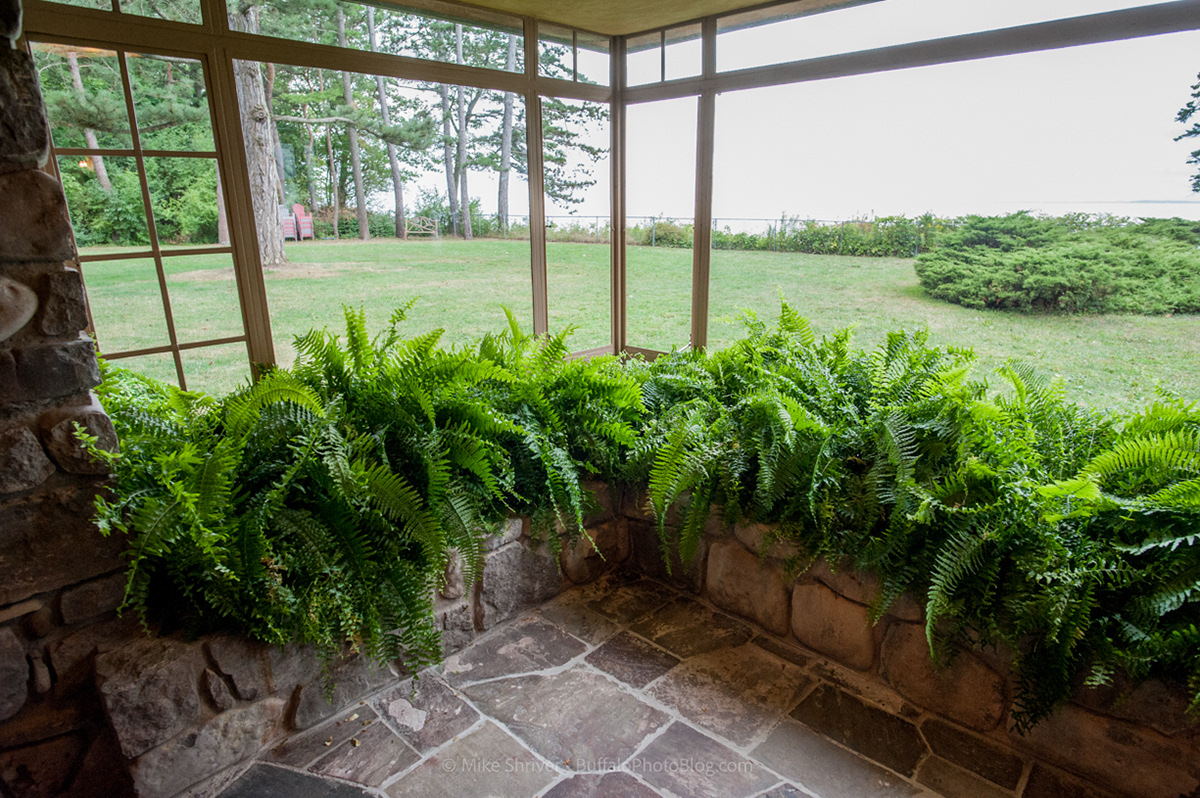 The Charles and Marie Fontana Boathouse is the one and only boathouse ever designed by Wright, originally intended for the University of Wisconsin where he attended school. During 1905, Wright was at the height of his Prairie Style builds in Buffalo and you can certainly see elements of that with his Boathouse design with the large roof cantilevers and designed leaded glass on the second floor windows. Although he was never able to materialize his drawing during his lifetime, Wright was so proud of his design that he included it in his Wasmuth Portfolio, being the only unbuilt structure in the portfolio. Following years of fundraising, Tony Puttnam, a Wright apprentice from 1953-57, was selected to realize the Fontana Boathouse, which is now home to the West Side Rowing Club.
Larkin Administration Building
The Larkin Building has to be one Buffalo's biggest demolition blunders. Maybe I'm just biased because of my Frank Lloyd Wright fandom, but I can't image what it would be like still having this building around. Today, a lonely brick pier along the northwest corner of the lot is all that remains from the original building (the first picture below is a newer ghost pier, built on top of the concrete and stone base of the original construction in 2015 by The Larkin Center of Commerce). When completed in 1906, the five and a half story building was truly associate-focused as Larkin wanted to make his company the most desirable place to work in Buffalo. Design details included large skylights, open air concepts, air conditioning, radiant heating, hidden staircases, built in desk furniture and suspended toilets.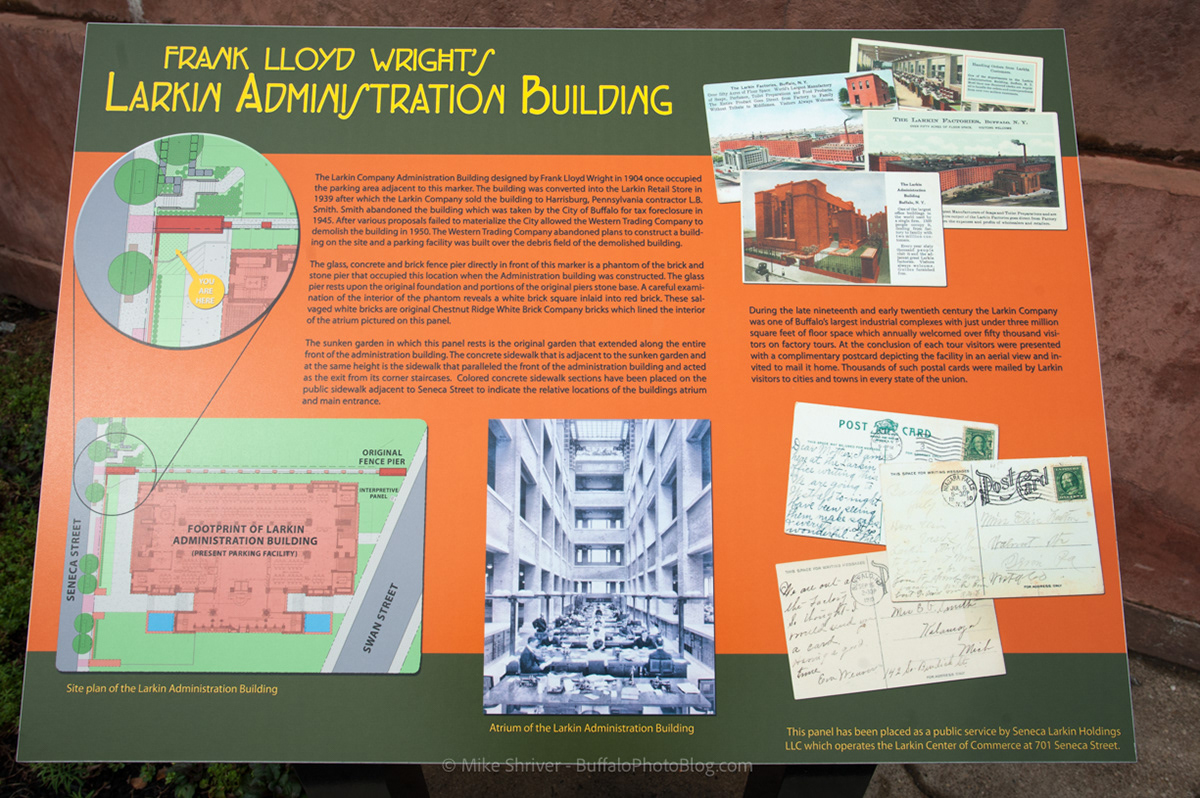 Blue Sky is the only mausoleum Frank Lloyd Wright ever designed, believed to be commissioned by Darwin Martin between 1925-1927 and originally intended for Forest Lawn. Unfortunately, due to the 1929 stock market crash, Martin lost most of his fortunes and could not move forward with the project. None of the Martins are buried here.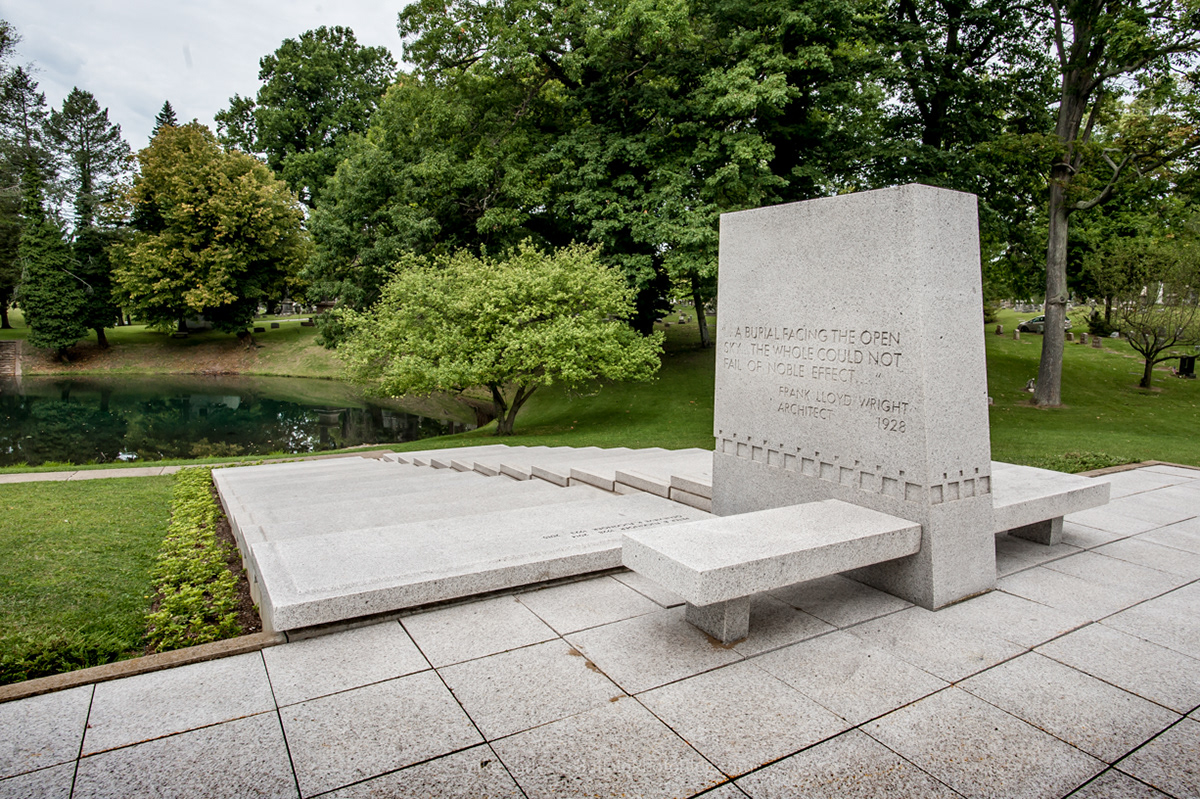 The Tydol Filling Station, originally designed for nearby Cherry and Michigan, is another Frank Lloyd Wright project finally realized after his passing. Notable features include the vibrant stucco colors, the prominent copper roof and the two sky reaching copper poles through the center of the station with an authentic Tydol sign between them. The 1,600 square foot station boasted gravity fed gasoline tanks, a second story observatory room, and a fireplace for patrons waiting for their service to be completed.